Parenting in this 21st century is becoming more difficult than earlier as parents raise a new generation of digitally savvy kids. All, from toddlers to adults, own at least one or two gadgets and are intimately familiar with them. Furthermore, many schools have incorporated tablets and computers into their curriculum content.
Some parents are even willing to allow their teenagers to have mobile phones because it is convenient to communicate. It also provides parents with an idea of where their kids are and what they may be up to. But, it is necessary for parents to use parental controls.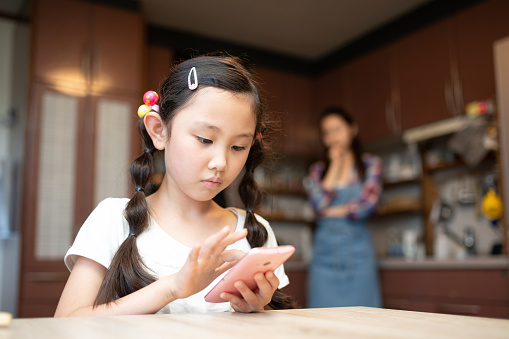 Parents have also realized that restricting their kid's internet access can impact their ability to learn and improve. However, this also exposes kids to cyber risks and material that could be beyond their ability to cope.
Some parents are still skeptical about providing their kids with their gadgets, considering the many negative consequences it brings along. Cyberbullying, identity theft, threats, body-shaming are some examples.
Therefore, it is important for parents to consider the pros and cons of giving their children. It's even better to make cell phone rules. It is just as necessary to keep your children safe from the online world as it is to keep them safe from the real world.
As a result, installing good security features and parental controls on all devices can safely help parents and kids navigate the modern world. Now, Let's get deeper into the role of parental controls and the necessity for parents to use parental controls.
The necessity for Parents to Use Parental Controls
Do you have a teen or a younger kid who uses the internet? If you have, are your devices and internet access secured by parental controls? If not, then this is something that you should do. When using the internet, there is always the possibility of online predators looking for the one opportunity to ruin your kid's life. Are you willing to take the risk?
The online world is a harsh and ruthless place where no one cares what effect their words or deeds have on others. So, it is up to parents to use parental controls, take care of their kids, and keep them safe.
The advantages of parental controls are apparent. They give parents peace of mind by shielding their kids from the dangers of internet access. They can significantly minimize the risk of kids being subjected to pornographic photographs or recordings, as well as cyber predators.
They will act as another guardian by restricting access at specific times, and they will keep your kid safe from any potential harm. Also, if you are a busy parent, parental controls can be a total game-changer for both you and your kids.
Effective Sides for Parents to Use Parental Controls
Technology's rapid progression builds new and demanding obstacles for parents to keep up with. Protecting kids from the risks of new technologies and the internet has become critical.
Because of the plethora of content scattered all over, the internet exposes kids to various risks such as identity theft, cyberbullying, social media manipulation, and harmful material. As a result, parental supervision has become a critical necessity for protecting your kids.
Fortunately, there are some excellent parental controlling and monitoring online, including surveillance applications. These applications and software allow parents to set limits on their kid's internet use, block questionable materials, keep track of their locations, and much more.
Reasons for Parents to Use Parental Controls
Here are some reasons for parents to use parental controls and how it will benefit you and your kids in today's world.
1. Content Filtering
Because of the easy access to the internet, everyone can access any content; even young kids can quickly access adult content, negatively impacting their mental health. Many times, parents cannot distinguish all unsafe websites for their kids and such websites need to be filtered. You can do this with parental control software.
For example, block the 'Adult' tab if you wish to restrict links to all websites that provide pornographic content. Websites are classified as adult, social networking, games, downloads, etc.
You may also use the category blocking function to build an exclusion list of domains listed in a blocked category. Or you can use internet filters for Android and other OS.
For example, if you have blocked the Social Networking group but wish to allow access to Facebook, add its URL to the exclusion list.
2. Monitor the Device
When your kids are busy making online friends or playing games online, you can help by monitoring their iPads, iPhones, and other smartphones. Apps with great parental control functions can assist you in tracking emails, social media accounts, tweets, and other smartphone features.
Monitoring is also helpful if you are very concerned about inappropriate communications topics.
For example, you can get warnings your kids use terms such as "drugs," "alcohol," "sex," or any other prohibited words.
This way, you'll be aware that your kids engage in possibly hazardous conversations, and you'll be able to save them ahead of time. Also, there are so many parental monitoring applications with more than 20 social media sites to track, many and contain nearly half of the social media platforms that kids are likely to use, so you're covered.
3. Tracks Location
Kids nowadays do not feel the need to tell their parents where they are going or with whom they are going. And this has become a significant source of stress for both parents. But not anymore; parental controls are here to address this issue.
The only thing you need to do to unlock this function is turn on GPS location in your and your kid's devices. GPS applications will assist the entire family in tracking each other's whereabouts. These serve to show that your kids are secure and where they should be and assist you in locating them in an emergency.
In some parental controls, there is also a feature of geofencing. And let me tell you that it is of great use. It enables you to set up a virtual boundary for your kids. You may add a list of locations, and you will be alerted if your kids reach or leave those locations.
4. Limit Screen Time
Another primary reason parents use parental controls is to limit screen time. It is challenging for parents to face their kids getting away from their electronic gadgets. Kids are so engrossed in their devices that they hardly want to leave them. But they are unaware of the harmful consequences that excessive screen time has.
Screen time has the potential to become addictive, and it can hypnotize an adult into spending hours stuck to a computer while emotionally disconnecting from their physical surroundings. A kid can have an even more difficult time breaking loose from their beloved show or game than an adult.
Excessive screen time for kids can lead to poor posture, poor eyesight, insufficient sleep, and a lack of physical activity. Parents must consider enforcing a healthier lifestyle by restricting screen time for their kids and themselves.
Parental controls can help you set rules by limiting the usage of the devices. You can also set aside time for gadget-free events, such as going for a stroll, driving around, or playing an indoor or outdoor game.
5. Go-through their Search History
If you're concerned about what your kids are doing online, look at their search history; their online life will be revealed to you. Kids are naturally curious, and they may want to visit online sites that are unsafe for them.
So, after using parental controls, you can see what kinds of websites your kids are visiting, and if such apps are inappropriate for your kids, you can block them.
List of Best Parental Controls
Unfortunately, the online world is not as safe and secure as it should have been, especially for kids. Parents can not always devote time to their kids online as working adults.
This is where free parental control apps can come in handy, allowing you to either restrict links to specific pages that could have objectionable content or only allow access to sites you approve.
The best free parental control app can look after your kids. At the same time, you are unavailable, whether they are studying for a school assignment, communicating with peers, or just exploring all that the Internet offers.
Now, let's have a look at some of the best and award-winning parental controls that are nothing less than a blessing in the life of a parent.
i. Bark
Bark is one of the best parental control apps available on the market currently. It helps you track more than 30 social media platforms, including emails, files, and pictures. It can also alert you about your kid's location and plays a massive role in their safety.
Bark – Advantages
Excellent web filtering

Provides parental Alerts

Tracks more than 30 social media platforms

Can monitor unlimited devices
Bark – Disadvantages
No geofencing.

Do not monitor videos.
ii. Fenced.ai
Another widely used parental control application is fenced.ai. It is one of the best apps for all the parents out there, which keeps your kids safe from online threats and bullying. For parents to use parental controls, it is one of the best-reviewed apps.
Fenced.ai – Advantages
Helps to monitor calls and messages.

Can supervise videos.

Social media monitoring is available.

Can limit screen time.

Has an alert system
Fenced.ai – Disadvantages
iii. Qustodio
Most parental controls are specially designed for Windows users, but Qustodio is also available for Mac, Android, iOS, and Kindle.
The free edition of Qustodio is one of the most advanced parental advanced tools on the market, allowing you to set guidelines and time schedules, as well as ban pornography and other inappropriate material. However, If you purchase the premium edition, you can also get SMS tracking and social media monitoring.
Qustodio – Advantages
It has three plans and protects up to 15 devices

Can monitor both calls and texts

Blocks all inappropriate contents

Provides geofencing
Qustodio – Disadvantages
Track Calls & SMS only on Android

Limited social media tracking
iv. NetNanny
NetNanny is an award-winning content filtering system that provides a reliable method to surf the Internet and block harmful or unsafe content. If your kids use the Internet on their smartphone, tablet, or computer, you can use this Internet filtering technology to keep them safe.
NetNanny provides several features across various platforms to enhance and protect your family's online experience. Location detection, application banning, website blocking, Internet filtering, porn blocking, and managing time schedule are among the many features offered by NetNanny.
NetNanny – Advantages
Has an instant alert system.

Great location tracker.

Provides monthly or weekly records of the kid's online activities.

Uses great web filtering tools.
NetNanny – Disadvantages
Doesn't provide social media monitoring.

A bit expensive.
Conclusion
I sincerely hope that the above article has persuaded you of the importance of parents to use parental controls. And if you don't have one yet, you can get one right away because it is one of the most dependable resources for all parents.
There is no doubt about the significance of it. It is essential if you are a working parent and cannot devote much time to your kids due to your hectic schedule. However, parental controls are always available for your convenience.
With these amazing apps, you can easily find out what your kids are up to, where they are going, and with whom they are talking. And if you sense any trouble, you can be aware of them beforehand. Isn't it so fascinating?
There is also a list of some of the best parental control applications to check if you are unsure which one is best for you and your family. So, if you find this article helpful, do share your comments. You are free to share other additional measures for parents to use parental controls.